Welcome to Tuesday and the month of May! Time is flying by. It's time again for a new release from
Doodle Pantry
. Laurie has some wonderful sets this month. If you need some masculine sets there are several this month. Just in time for me to make some "guy" birthday cards. I have a brother and a BIL who have a birthday this month. So I'm looking forward to using some of these very cool sets.
The set I chose for release day is called
Baby Sea Turtle.
This little guy is just too cute. The set comes with both an outline and color version, sentiments and two background papers.
My pizza box will fit a gift card. I used the outline turtle for the box and colored it with Copic markers. The turtle on the card is the colorized version. The paper I used is one of the background papers included with the set. The sentiment on the card is also included.
For the box I added some rhinestone embellishments to simulate some breathing bubbles. I really need a video to show you what's special about the box. I made a spring from 26 gauge jewelry wire and so the turtle bounces and swings when he's touched. You can see the spring a little better here:
The spring is very easy to make. You need two circles of cardstock. I used the scraps from the same background paper. Twirl your wire around a pen. Poke a hole in the middle of each circle, slide the wire through each hole and tape the wire down to the circle. Attach each circle: one to the box and one to the image. Easy as pie and it makes a fun interactive package. I sent this to my son's girl friend. Her birthday is this week and she's also taking final exams so I thought the sentiment was perfect: You've made it this far, so keep on swimming! Happy Birthday Anne!
So I know that you want to see the rest of this marvelous release! You can check it our at the
Doodle Pantry blog
or the
Doodle Pantry store
under new releases. You won't be disappointed. The rest of the design team have made some wonderful samples that you won't want to miss too. And as always, Laurie has some specials for the month of May:
To commemorate National Pet Week, Laurie is giving a free set called Dizzy Dachshund free with any purchase until May 13th.
The set Man Stuff is free with purchase from May 1st -24th.
And the new challenge will be posted at the Doodle Pantry blog about noon today. Play along and everyone is a winner. Each person who submits an entry will be emailed the Scuba Sheep set. The only requirement is to use a Doodle Pantry image (not a sentiment). Don't have any DP images? No problem. Laurie has a whole section of freebies. And you have a chance to win other prizes too.
And what would the month be without some specials? May 1st - 13th there are a bunch of sets marked at 30% off. You'll want to check out the Digi Grab Bag.
So that's it for today! A lot of fun for May 1st, don't you think? Here's hoping that your May gets off to a wonderful start.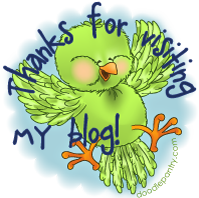 Donna